Collectif B.A.Z.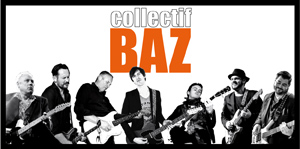 FR
Rock
►
Friday, March 17th - 9:00 pm
Maladrerie Saint-Lazare (30 €
COMPLET
)
Both a guitar player and a singer, an occasional drummer with Tys, Straight On, Sir Nash, Mister and Mister, Baptiste Vayer has invited the best local guitarists, Alain Carminati, Alexandre Rondu, Dominique Rouvillé, Josselin Dujardin and Christophe Gillet to share the stage with him at la Maladrerie. A first ever band for a genuinely rock concert.