Le Blues autour du Zinc – Beauvais
23th edition from March 16th to 24th 2018
March in Beauvais has become synonymous with the Blues Autour du Zinc. For this 23rd year of the festival, the intense coming together of audiences and artists will breathe invigorating, convivial and welcoming air into the town.
As usual, the rich and varied programme will be accessible to all. Accessible in terms of different locations, not only in the town, but also in rural areas outside Beauvais for those who are elderly or incarcerated. And accessible financially as well, as there are numerous free concerts.
The festival likes to discover different musical styles, aiming to charm the public with various tastes. The guiding principle is of course blues, but there are also forays into soul, rock, rockabilly and electronic music.
To whet the appetite on 16 March, Beauvais Theatre hosts the magnificent trio Wille & The Bandits, as well as the captivating Irish musician Grainne Duffy whose tone is both powerful and calm, and where acoustic sounds cohabit with the spirit of country, folk and roots.
The following evening, The Excitements and then Hannah Williams & The Affirmations take to the stage of Ouvre-Boîte for a soul funk evening.
The American roots evening at the Maladrerie Saint-Lazare, on Sunday 18 March, will be performed by two firm favourites of this year's festival: The Marcus King Band, a young American virtuoso on the guitar and his band, and DeRobert and The Half-Truths from Nashville.
Tuesday 20 March sees a change of mood with Jo Harman and Elles Bailey for the annual "Blues au Féminin". It is absolutely not to be missed.
On the evening of 22 March, the DJ and world famous producer of electronic music, Etienne de Crécy will ignite the Maladrerie Saint-Lazare.
Saturday 24 March for the closing concert, see American group DeRobert And The Half-Truths accompanied by French groups General Elektriks and Gunwood for an emotionally charged evening.
True to its tradition, the festival has two days of concerts in bars on 23 and 24 March with many surprises to discover.
Almost 200 artists will be present to bring great times, full of emotion, new beginnings and discoveries.
Have a good festival!
Laurent Macimba
Baz express! New videos every day!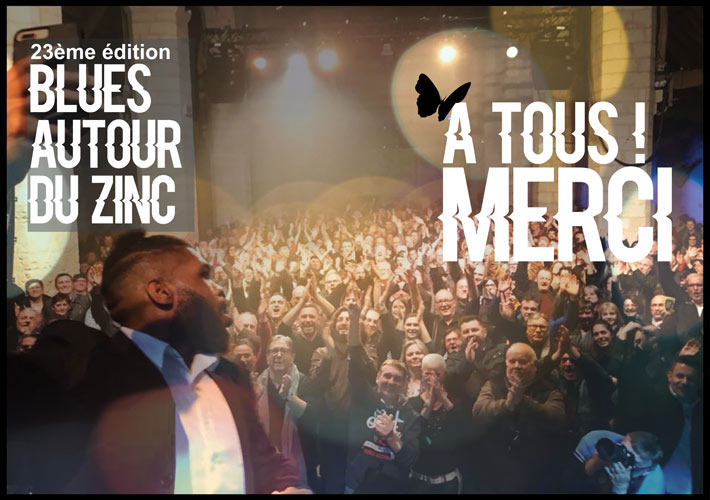 Buy your tickets
Look at the program
Look at the videos
Support the festival
Become voluntary
Keep in touch