1998 – 3rd festival
From February 17th to March 7th 1998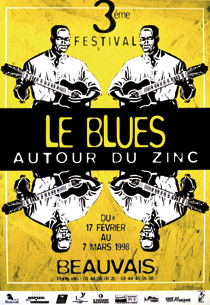 Edito
Le Festival s'enrichit d'une multitude de tendances et emprunte de nouvelles avenues tout en conservant une forte tradition qui a traversé un siècle entier.
Pour sa troisième année, le Festival a été rejoint par le Théâtre, le Café Musique et la Médiathèque.
Beaucoup d'amateurs et quelques curieux se pressent dans les bars pour applaudir les formations françaises, américaines, allemandes, suédoises: Bo WEAVIL, Franck ASH, Memo GONZALEZ and the Blues Casters, Eric BIBB, Mike MORGAN and the Crawl.
Un concert de gospel, des expositions, des projections cinématographiques viennent enrichir le Festival.
Scheduled artists
Eric Bibb (USA) & Goran Wennerbrandt (Suéde)
Mike Morgan and The Crawl (USA)
Memo GONZALEZ & the blues Casters (USA)
Bo WEAVIL (Fr)
Franck ASH (Fr)
Dedicate Mac Israel (Fr)
John DOE (USA)
Cajun express (Fr)
Soul finger (Fr)
The Dagous Ket Ramblers (Fr)
Tym Sklibeck and the Enygmat-X (GB)
Differences (Fr)
Zeb & the Blues Machine (Fr)
Doo the Doo (Fr)
Moby Dick (Bvs)
The compil'