2012 – 17th festival
From March 19th to March 25th 2012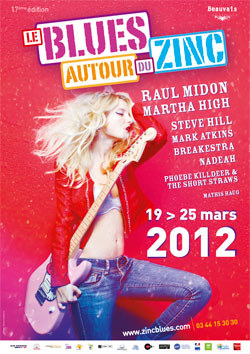 Edito
For 17 years, in March, Le Blues Around the Zinc festival gives an appointment to all the amateurs of this devil's music.
With about fifty concerts distilled in bars and venues, we invite you to taste everything that makes the actual blues.
This year still, we adapted ourselves to the new financial environment without damaging the quality of the programming of the festival, nor the proposed cultural activities.
Proof is with the American Raul Midón and its pop-soul crossed with jazz, to discover on the stage of L'Ouvre Boîte, at the opening of the festival on March 19th.
And always the "Blues au Féminin" with the voice of Nadéah and the blues rock of Phoebe Killdeer and The Short Straws who will sound in the very beautiful venue of the Maladrerie Saint-Lazare.
Do not miss either the movie concert " In the shade of a cloud " dedicated to the Gypsy Jazz music through les Frères Ferret and Django Reinhardt, the after Blues parties of the weekend and of course the inescapable concerts in the bars of the city which give merry colours to the festival.
Then let us not avoid our pleasure and let us take advantage all of this big musical party giving rhythm to beautiful moments of conviviality, beyond ages and borders.
Very good festival
Laurent Macimba
Scheduled artists