2013 – 18th festival
From March 12th to March 17th 2013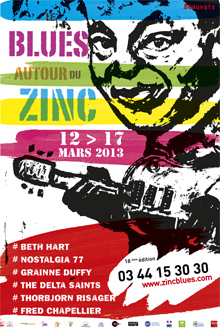 Edito
Whatever the weather, the fad, Beauvais Blues festival and their team have been faithful to the appointment they have given for eighteen years to 12-bar lovers of guitars, hoarse voices and to those who like new musical discoveries.
Every year ladies are well represented in Beauvais, this year it is exceptional Beth Hart, a US band, Grainne Duffy a singer and guitarist from Belfast, Nostalgia 77 from London and Gizelle Smith will conquer their audience.
Take your time to discover them and do not miss the concerts which will take place in the fine place of Maladrerie Saint-Lazare where you will see The Delta Saints from Nashville, Thorbjorn Risager, a band of rhythm n' blues and Jake Calypso 1 his red hot, influence of the 40s and 50s.
All the artists will offer the colour and richness of this music in the bars and venues of Beauvais and will reach the jails and high schools of Picardy.
Blowing a friendly, warm and bracing wind has been our trademark and our conception from the start.
We are looking forward to meeting you all for this musical festival.
Laurent Macimba

Scheduled artists
Les vidéos
Festival Blues Autour du Zinc 2013