2015 – 20th festival
From March 19th to 29th 2015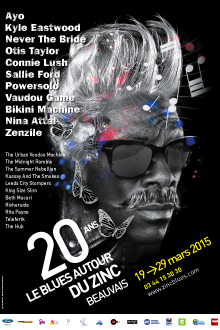 Edito
20 years later, yes, time flies. John Lee Hooker once said: "We will always be here, because the blues won't ever really know an end."
20 years old, the age of reason so to speak .... We're not so sure, the Blues Autour du Zinc intends keeping its hunger for discovery and a little grain of madness.
20 years on, and time to say THANK YOU because this festival, we owe it to all of you: our friends, volunteers of all ages who have joined the ever-growing team over the years, the institutions that support us, but also and especially to you our loyal supporters. A festival we've always wanted to keep simple, festive and high quality.
20 years later, and it's also the occasion for a souvenir album. Throughout the 250-page edition for this special anniversary, you'll discover and revisit the history of the Blues Autour du Zinc with those who have shared these years, those who have helped me, all those musicians who have given us so many precious moments filled with emotion and joy.
Difficult to imagine a birthday without a surprise gift! For our twentieth anniversary, we propose three "Secret Gigs". The surprise guests will be revealed only once you are in the concert hall! Will it be blues, rock, jazz, soul, funk? We can say no more!!
From the programming side of things:
Two former big hits will be launching the festival: The Summer Rebellion who you will remember from the bars last year; and Never The Bride, returning after six years.
A jazz evening with Kyle Eastwood and Otis Taylor.
And as always the Blues au Féminin (female blues night) with Beth Macari, Rita Payne, and Nina Attal. At the Ouvre-Boite you will discover the lively Sallie Ford and her guitar. For the closing night, we have the beautiful Ayo. Of course there will be the late night After Blues and many other tasty musical evenings. Don't forget also the various meetings at both of the town's cinemas.
And a new addition ... house concerts.
Meetings, reunions, first-time concerts... We wish you an excellent festival for 2015! Treat yourself: let us surprise you and come help us blow our 20th anniversary candles. We don't turn 20 every day!
Laurent MACIMBA
Scheduled artists