2000 – 5th festival
From March 9th to March 18th 2000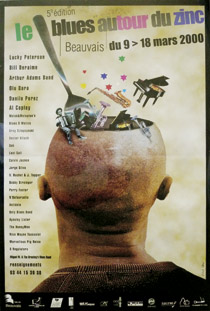 Edito
Cinq ans déjà et l'an 2000.
Plus de 20 concerts, promenade musicale combinant découvertes locales, groupes confirmés: Greg SZLAPCYNSKI (Pologne), Nico WAYNE TOUSSAINT (Fr), Miguel M and the Brachay's Blues Band (Fr), AL COPLEY (USA), Only Blues Band (Québec), Calvin JACKSON (USA), Last CALL (Belgique), Danilo PEREZ (USA), Bill DERAIME (Fr), Arthur ADAMS et Lucky PETERSON (USA).
Pendant le festival, découverte du blues auprès des élèves des écoles primaires et des collèges de Beauvais, des ateliers de musique assistée par ordinateur, et pour clore l'année 2000, THE GENIUS: RAY CHARLES et son Big Band, à l'Elispace, dans une salle archicomble, chauffée à blanc par le Québécois Steve HILL, accompagné de ses musiciens.
Scheduled artists
Ray CHARLES et son big band de 30 musiciens (USA)
Lucky PETERSON (USA)
Arthur ADAMS (USA)
Olu Dara (USA)
Bill DERAIME (Fr)
Aynsley LISTER (GB)
Calvin JACKSON (USA)
Last CALL (B)
N'Dofaozello (Bvs)
SAH (BVS)
Al Copley (USA)
DaBobby DIRNINGER (Fr)
Jorge SYLVA (BVS)
Danilo PEREZ (PANAMA)
D'Régulators (B)
Marvellous Pig Noise (Fr)
Jeremy TEPPER (Fr)
Only Blues Band (CAN)
The Honey Men (Fr)
Perry FOSTER (GB)
Baptiste VAYER (Bvs)
Greg SZLAPCYNSKI (PL)
Vincent BUCHET Miguel M & the Brachay's blues band (Fr)
Nico WAYNE TOUSSAINT (Fr)
Docteur KITSCH (BVS)
Gospel Hearts of soul (USA)
Molok é Méléon'K funk + soirée DJ Total Respect (Fr)
The compil'